SCANDIA MOTEL
Are you planning your next beach getaway? Consider a stay at the quaint and accommodating Scandia Motel located in Carlsbad, California. Situated along the Pacific Ocean and graced with a mild climate year-round, this city offers a sublime setting for your next vacation. Wander along streets lined with sidewalk cafés and antique stores to discover miles of coastline, world-class shopping, and street fairs. Just steps away from our property, you will find uncrowded beaches for surfing and sunbathing and picturesque lagoons for hiking and bird-watching. Scandia Motel provides its guests with an unforgettable experience during their stay at "The Village by the Sea."
Scandia Motel Carlsbad has recently undergone a management change and significant remodeling to prioritize exceptional services and guest satisfaction. Our warm and bright suites feature comfortable furnishings, tasteful décor, and hardwood floors. From our puffy pillows to granite countertops to marsh views, our guest rooms and suites are the perfect getaways. While you're here, be sure to take advantage of our property amenities, as well, such as our outdoor garden and free parking. If you have any concerns or requests, drop by our around-the-clock front desk for assistance. We're here to serve you!
Located in Carlsbad, Scandia Motel is situated in its city center and within walking distance to the beach. Discover incredible breweries, adventure parks, shopping districts, golf courses, upscale restaurants, and seven miles of coastline. Stroll down to the Oceanside Pier and Oceanside Harbor for breathtaking sea views and beach fun. The Sealife Aquarium and Legoland are also tourist hotspots. Take a day trip out of town to discover the history, culture, attractions, and beaches of San Diego or Orange County. With a stay of Scandia Motel, your opportunities for adventure are endless.
ACCOMMODATIONS
SCANDIA MOTEL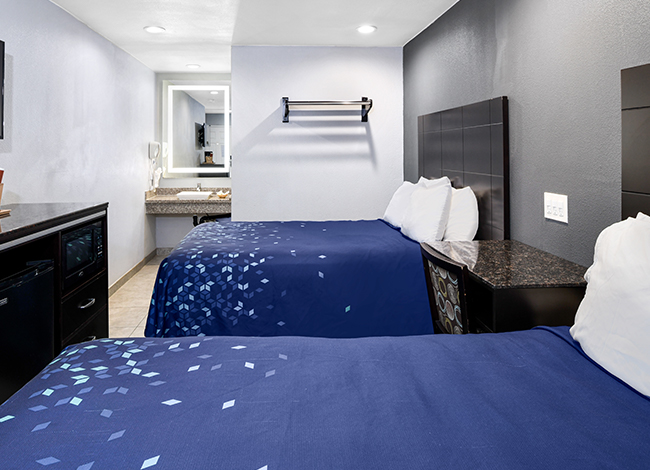 Reviews
It was our first time staying here. The location was close to the beach, restaurants, shops, and attractions. Our room was clean and modern with a kitchen that saved money because we didn't have to dine out, and was ideal for our family. The beds were comfortable, and the shower is big - like I'm in an expensive spa big. We'll definitely be back.
We love Carlsbad and this motel made our coastal getaway even better. I love that we were able to park right in front of our room. Our room was very clean and comfortable, the bed and pillows were just right, the staff is helpful, and the location is perfect.The rooms have an upscale vibe.